Coaching is a personal, professional and business development strategy that develops agile, fit and resilient leaders who can transform challenges into creative new opportunities to propel personal and professional growth and generate strategic results.
The Kaizen Coaching Model recognizes the need to heed, to address and to integrate internal and external realities. To change ourselves and our reality, we have to accept full responsibility for ourselves and make our choices consciously. The model is based on two fundamental insights:
Our physical world can be managed by change. We can change place, furnishings, renovate…
Our psychological world, however, can only be managed by choice.
The Kaizen Coaching Model – F.A.C.T. represents the coaching process and consists of four steps: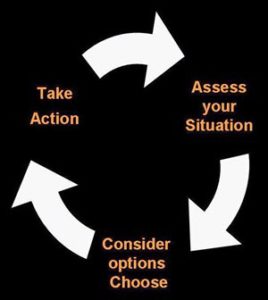 Find Centre – Tune-in to how you are feeling. Centre your consciousness; breathe and be here now. Identify and nurture the inner authentic self. Know this place. Return to centre anytime throughout the process. Radiate authentic self. Centering your consciousness helps ensure the conscious choices you are making harmonize with your vision, values and purpose.
Accept reality – Observe and identify objective characteristics. Take two steps back and reflect. listen, observe and perceive without bias. Be open, transparent and reflective. Identify the challenge and give it a context. Find centre and accept reality. Shift perspective. Recognize assumptions. What aspect of the current reality is yours to own? Accept responsibility
Consider Options and Choose – What do you want? Imagine possibilities. What wants to emerge? What opportunities/options are the most enticing/promising? Consider impacts and potential consequences. Explore options. transform challenges into opportunities. Centre your consciousness to reflect. Make a choice.
Take Action – Set direction and develop a strategic action plan. Create focus. Identify key milestones and determine next steps. Establish success indicators and accountability mechanism. Gather resources and prepare, with the comfort of knowing your coach is available On-call or by email throughout the process. Experience. Discover and document what empowers and resonates. Provide an update at next scheduled coaching session.
Application of the Kaizen Coaching Model with coaching support delivers benefits:
Enhanced sense of personal integrity and self-confidence with improved mental outlook, focus, concentration and creativity; enhanced coping and self-management skills and the ability to respond rather than react in challenging situations.
Enhanced self-awareness, alignment of vision, values and actions; clear goals and action plans that inspire strategic action and deliver results.
An improved work-related performance with energy to spare and a greater sense of personal fulfillment and happiness.
Related Articles:
Be the CEO of Your Life
Coaching for Professional Development, Business Best-Practices and Personal Growth
An Artist Reflects on her Coaching Journey
Redefining Your Future Now
Coaching – A Learning Journey of Transformation and Empowerment
The Coaching Relationship Partnering for your Success