Kaizen Living – Books for Change
Knowledge is information that changes something or somebody – either by becoming grounds for action, or by making an individual (or an institution) capable of different or more effective action. Peter Drucker
The Kaizen Home Study Program – Energize the Leader Within® is a personal empowerment system and consists of 4 workbooks, organized into 34 lessons that guide the reader through a process of self discovery and transformation, inspired by the KAIZEN coaching model A.C.T. (Assess and Accept your Reality; Consider your Options and CHOOSE; Take Action).
Each book represents a stage in a non-linear transformational process, designed to facilitate the reader's progress, and features
Thought-provoking insight and discussion
Exercises and reflection
Tips, techniques that inspire and strategies that work
Helpful Planning Tools and Self Assessment worksheets
References and Resources
Glossary of Terms
Coaching Support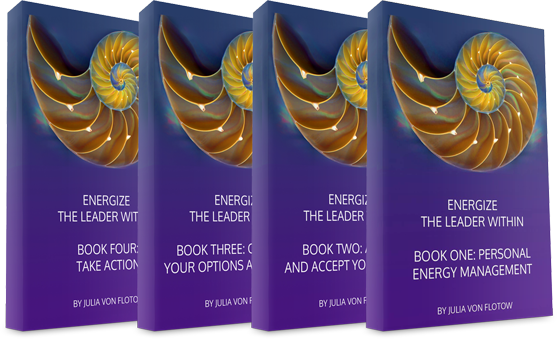 This practical do-it-yourself approach gives people seeking self-improvement and personal growth a means to get started on a personal empowerment process on their own, helping them take responsibility for their life experience, one step at a time – in a user-friendly personal empowerment system format.
The approach recognizes the importance of personal energy management as fundamental – a key driver in determining a person's life satisfaction and sustaining motivation and provides the tools, techniques, exercises and processes to help readers
discover their passion and life purpose
develop self awareness and self regulation competencies
create a compelling vision, set direction and goals
find new ways to learn and work – to be in service to the world and make a contribution without forsaking themselves in the process.
design an personal development and action plan and creative strategies
hold themselves accountable for the commitments they make to themselves
Energize the Leader Within Home Study Course is designed for self-motivated individuals who seek to improve themselves, their relationships, increase life satisfaction and better the world.
It will be useful to professionals engaged at management, senior management and executive levels in corporate, and non-governmental organizations; and independent professionals, entrepreneurs and/or creative professionals seeking to improve their life-work satisfaction, and their performance personally and professionally.
Individuals can benefit who are involved in creating, producing and marketing cultural programs and services if they are:
entrepreneurial
strategic and
ecological in orientation
caring about the communities they are part of
demonstrating a commitment to innovation and
compelled to contribute toward developing a more sustainable world.
The Kaizen Home Study Program Energize The Leader Within is designed to help individuals make positive and sustainable changes in their lives, and may be of particular benefit for people who may be:
In transition
Bored, stressed or frustrated with work, life or relationships
Overwhelmed by time constraints and too much to do
Blocked, stuck or drifting without direction
Confused or prone to negative self-talk
Missing something, yet greatly accomplished
Wanting more out of life
Cost of the Kaizen Home Study Course
Energize the Leader Within is $99.97
Or, buy one book at a time:
Book One: Connect and Discover – Personal Energy Management  $19.97
Book Two: Assess and Accept your Reality) $29.97
Book Three: Consider your Options and CHOOSE  $29.97
Book Four: Take Action (Awareness, Action, Accountability) $29.97
Professional coaching is recognized as a resource and is available at any time while on your journey at a special bonus rate. Home Study Program participants are also welcome to transfer into the Kaizen Leadership Group Coaching  or Personal Coaching program with any investment you have already made credited towards your next step on your personal leadership journey. We specialize in custom-designed coaching programs to meet your specific needs. Contact us to schedule a complimentary discovery session.